Protest were staged against the sermon commemorating the death Croatia's WWII fascist leader Ante Pavelić
While Croatian media was analyzing the first assembly of the Croatian parliament, a far more disturbing event took place in the very centre of Croatia's capital Zagreb on December 28th, 2015. 
Approximately 80 anti-fascist protesters gathered in front of the Basilica of the Sacred Heart of Jesus in the very centre of t city where a sermon commemorating the death of Croatia's WWII fascist leader Ante Pavelić and founder of the Independent State of Croatia was being held at 7 PM. 
Initiative "Against Fascism" organized a protest to prevent the rise of extreme right wing ideas, carrying signs and placards stating that Pavelić was responsible for acts of genocide during the Independent State of Croatia.  Just before they reached the Basilica, protesters were attacked by a group of Pro-fascists.
"We were attacked by a group of 10 – 15 pro-fascists. They were throwing metal bins at us and the confrontation soon escalated into a fist fight after which they escaped" said one of the organizers of the protests, Marko Milošević from the Worker's Front.
No police reports were filed and no arrests were made because the attack lasted just a few minutes, but the annual sermon did indeed take place in front of some 300 supporters.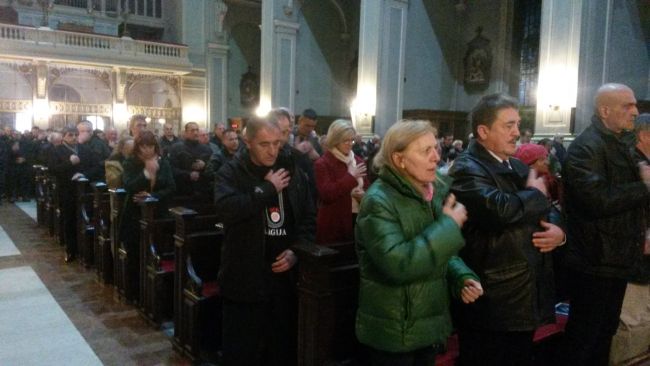 "Unfortunately, elements of fascism have not disappeared from our society, if anything; I'd have to say that in 2015 they grew stronger" Milošević added.
This incident comes only a few hours after the surprising initiative by the newly appointed Parliament Speaker Željko Reiner to change the name of the parliament using the same title which was used during Croatian history, but most notably, during the Independent State of Croatia, as reported and discussed in our interview with Krešimir Macan.
Above mentioned basilica has been the location of annual sermons for Ante Pavelić for over a decade now, and it is not until a few years ago that people started openly protesting against it and against the public sale of memorabilia with Ustase insignia. 
Here is the video of the event, courtesy of Index.hr
Even though this incident can in no way be characterised as the rise of pro-fascist movement in Croatia, especially since we know sporadic episodes like this one have been happening for years, it is certainly unnerving to see that we are still not coming to terms with our own past and that we are still looking behind instead of looking forward to resolve the burning issues in our society such as the alarming unemployment rate and rapidly declining economic situation.