Now that more than half a million people across the globe saw his two videos about Croatia, it's time he shared his favourite things about our country
When Pascal Tang visited Croatia this summer for the first time with his best friends, he never thought he would become national news. But that is exactly what happened just hours after he posted his VIMEO video clip about his trip. As we already reported, viral hit even got the director of the Croatian National Tourist Board Ratomir Ivičić to meet Pascal in Paris and invite him and his friends back to Croatia, complimentary of course.
I caught up with Pascal over Facebook of all places, and finally managed to talk him into an interview for Total Croatia News. So here's what he has to say about Croatia as a holiday destination and why he likes to travel as much as his busy lifestyle allows.
1. I've looked through your Facebook and Vimeo accounts (the wonders of modern technology) and it is clear you've travelled all over the world, but the biggest public reaction came after your first video made here in Croatia. How did you end up in Croatia in the first place?
Well, I was never expecting a big public reaction. That wasn't my intention when I first posted the video about the road trip with my friends. As for selecting Croatia, it actually came in first place after some internet research. Last summer, my friends and I were looking for a place which will satisfy most of our demands such as wonderful landscape, rich in culture and history, plenty of natural reserves, plenty of partying and of course financially acceptable. Then, after a unanimous agreement, we booked our flights quickly and ended up in Croatia where our story started!
Road Trip in Croatia 07.08.2015 - 21.08.2015 from Pascal Tang on Vimeo.
2. The public reacted quickly to your video, and they called out the Croatian National Tourist Board to track you down and invite you back for another visit just days after the clip was originally posted. How did the Tourist Board contact you and were you surprised when the Tourist Board director actually asked you to meet him?
At first, I saw the stats on my video growing rapidly in just a couple of hours. I was very happy that our little trip diary was watched by so many people. The next day, I received an email at work  from my colleagues in Zagreb, whom I never met before, asking me if I went to Croatia this summer and if I posted a video because my clip was all over the news. I didn't believe what I was reading. Later that day, I received a call at the office from the Tourist Board of Croatia. Mr. Ratomir Ivicic, the director, was actually in Paris the same day and wanted to see me in order to thank me for my video. I guess that was the moment I realised it actually went viral. So we met for coffee, chatted and I did my very first interview. I really wasn't prepared for it so I improvised my way through it. Never thought an interview for TV is so stressful! 
Then, a few days after this media adventure we received an email from the director of the Baranja Tourist Board Mr. Matej Perkušić. At the very end, e-mail read: " Accept our offer of a free trip to Osijek and Baranja and make us happy". Are you kidding me? Of course we want to make you happy! We were excited to discover another part of Croatia.
3. Now you're back with the second video about Baranja. The area itself is very different from the laid back Dalmatian coast. How did you find it, what did you do for those 10 days?
It's right that our first trip in the Adriatic coast was based on classical touristy activities: visiting national parks and beautiful islands, discovering the beauty of this country. However, the second one in Baranja and Slavonia region was totally different. The region has its own history and traditions. But what really struck me was the sympathy and warmth of the people. We shared so many good moments with all of them,. I still have some memories coming back while I am answering these questions like the dinner with the entire tourist board team, the day in Kopački rit National Park, barbecue night around a campfire, drinking Rakija before and after eating a delicious fish grilled on fire - šaran u rašljama, preparing the tradition fiš paprikaš soup, partying with local friends. The list goes on and on... 
We got the chance to sleep in accommodation with traditional decorations, try traditional meals prepared the way it has been prepared for centuries and also experience the lifestyle of different villages…  Actually, this entire trip was a very enriching cultural experience for us and I really like those trips. I think to truly experience a country, you have to get domesticated, you have to stop acting like a tourist and that's exactly what we did. We could be a real Baranjan and Slavonian now ha-ha. This second trip was the perfect way to complete our experience of Croatia.
Invited to Baranja 09.10.2015 - 18.10.2015 from Pascal Tang on Vimeo.
4. You've travelled all over the world, as I already mentioned, how would you rate Croatian services, hospitality and the country in general?
From 0 to 5, services and hospitality were great, I's give it a solid 3,5. As for experiences in general, and I have to confess Croatia wasn't exactly on my bucket list, but now it is one of my favourite places in the world so I give it 4/5 :) (we have to say Pascal is a tough cookie, you can tell he's a tough negotiator just by looking at his grades).
I really recommend this place to everyone now. But I think the videos already show a lot, so I don't need to argue much in order to convince people. I believe Croatia can satisfy any kind person: boys or girls, singles or couples, young or older. A place with beautiful landscapes (waterfalls in national parks) and a perfect seaside with the clearest water in the world, is the paradise for everyone. Who wouldn't want to discover that? 
5. Can you name your 5 favourite things and places in Croatia now that you're becoming a regular?
Drinking Rakija: this is a huge tradition. That's definitely the best drink ever! And I like the slogan « Rakija, connecting people », that is so true!

Croatian hospitality: that was really unbelievable in Baranja and Slavonia regions. 

Krka national park 

Nightlife (Hvar & Osijek) 

Croatian foods (Kulen, wine, traditional meals) - I miss it all now :(
6. Three of you are the representatives of so called "Millennials",  what is it that you are looking for when you're deciding on a travel destination?
Actually, we know each other since we were 12 years old. We have grown up in the same neighbourhood and we are very good friends. In the past, we didn't have the opportunity to travel together because of different reasons. 3 years ago, Philippe, John and other friends went to Thailand together. But I couldn't be there with them. They came back with many great stories and told me that next time, I should be part of the team.
So this time, here I am. They wanted to have the same experience with me somewhere else in Europe where we can share the maximum of fun together. This includes of course sun, beaches, drinks, and music. That's the first things we are looking for when we travel with good friends. A destination that can provide a lot of good memories and funny stories to tell. I am sure that Croatia will become more and more popular as a top destination for young people. Your tourism will explode, just you wait. 
7. What was the weirdest thing you've encountered on your travels so far?
Among my travels, I realized that the warmest and the most friendly persons are the ones who have the less to offer. Most of the time, those are the people who live in less developed cities with less resources that are the most hospitable and helpful. While the person who has the capacity to help you, won't do it. I find that weird because it should be the opposite. We live in a world that is  upside down! It's a pity, people should act the same way and we should help each other when we are able to.
8. I have to ask, were you expecting this kind of a reaction in Croatia? You're becoming celebrities, people are asking for autographs, selfies….
Of course, I was surprised. This was my first road trip video and I wasn't expecting such a great reaction. Who would have known that my video would be seen 430 k times and shared by 40000 people?
The funniest part of that story is we never believed people when they said that  we are stars in Croatia. We thought only a few people might recognize us. In fact, we were recognized from our first step in Croatia by the customs officer. She saw our passports and asked us with a smile « Are you the three French guys in the video? You are back! ». And that was just the beginning. During the whole trip, journalists were interviewing us, people asked for pictures and also talked to us like they known our story. We were not used to this kind of life. We found it weird and funny at the same time. 
Our first reaction when we saw ourselves in the newspaper was "Can I keep the article? I will frame it and put in my bedroom as a reward"! And I actually did it. I'll keep the other articles and show it to my son later  "Look, your dad was a celebrity in Croatia once upon a time!"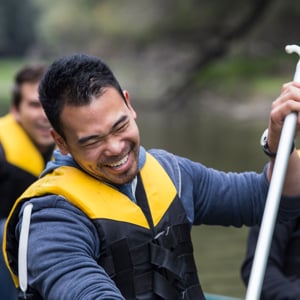 9. Is there a region or city in Croatia that's still on your "bucket list"?
We only travelled through a small part of the Adriatic Coast, Zagreb and Baranja region. There's still so much more  see in Croatia, isn't there? I know that I will definitely go to Dubrovnik one day. But I heard it's a romantic place, so maybe I'll keep it and go there with my girlfriend later. 
10. What's next on your travel agenda? Any other invitations by tourist boards we should know about?
My travel agenda? I don't really have one. I just go where the winds  take me. Every destination I ever visited depended on my emotions and the inspiration of the country. I have a bucket list and it's still very long, but I don't have priority.  It's true that we already have some invitations for next summer, but from travel agencies, property owners, or associations. All of these propositions are for places we didn't see yet. So I say MOŽE!, It would be amazing to discover another part of the many hidden beauties of Croatia.